Sharp Carpet & Air Duct Cleaning is Omaha's trusted carpet cleaning and carpet protection service. We provide porfessional cleaning services for both residential and commercial carpets.  With top-of-the-line equipment, highly-skilled cleaning technicians, and a commitment to delivering the highest level of customer service, you can trust us to handle the toughest carpeting cleaning needs!
Residential Carpeting Cleaning Services
Whether you need an annual deep cleaning or stain and odor removal from your carpet at home, you won't find a better carpet cleaning company in Omaha.  Our bonded, insured technicians and our powerful truck-mounted water extraction equipment result in carpets that look great!
Stain Removal
Tired of seeing ugly stains in your carpet? Have guests coming over soon? Stains in your home's carpet are inevitable, whether it's from food, beverages, mud, or pets. With our professional carpet cleaning services, we work hard to remove stains to get your carpet in good shape again.
Pet Odor & Stain Removal
Having pets is great, but it can sometimes mean more carpet odors and stains in your home. Using our unique enzyme product that breaks down organic matter, we're able to remove odor and stain-causing deposits (including pet urine) from your home's carpet.
Upholstery Cleaning
Carpet cleaning and protection isn't the only service we offer our residential customers. We can also help with cleaning upholstered furniture. If you have unsightly stains and unpleasant odors trapped in your upholstery, we can help get them out to make your furniture look and feel better.
Commercial Carpet Cleaning Services
The team behind Sharp Carpet & Air Duct Cleaning isn't just experienced with cleaning residential carpets. We also offer professional carpet cleaning services for businesses. Carpeted areas in an office see their fair share of wear and tear, which means they need frequent cleaning and upkeep.
Upholstery Cleaning
First impressions are everything. You don't want customers to see grimy, stained furniture when they walk into your office for the first time. We offer upholstery cleaning services to help you keep your office furniture looking neat and tidy so you can make the right impression.
Stain Removal
Maintaining a clean office environment isn't just important for impressing your customers. It's also helpful in providing a pleasant work atmosphere for your employees. We can tackle even the toughest office carpet stains to keep your business looking clean and professional at all times.
Carpet Protection Services
When you invest in professional carpet cleaning services, it's worthwhile to keep your carpet clean and stain-free for as long as possible. This is why we highly recommend having carpet protectant applied after a cleaning. With Sharp Carpet & Air Duct Cleaning's carpet protection, you can keep your carpets clean longer.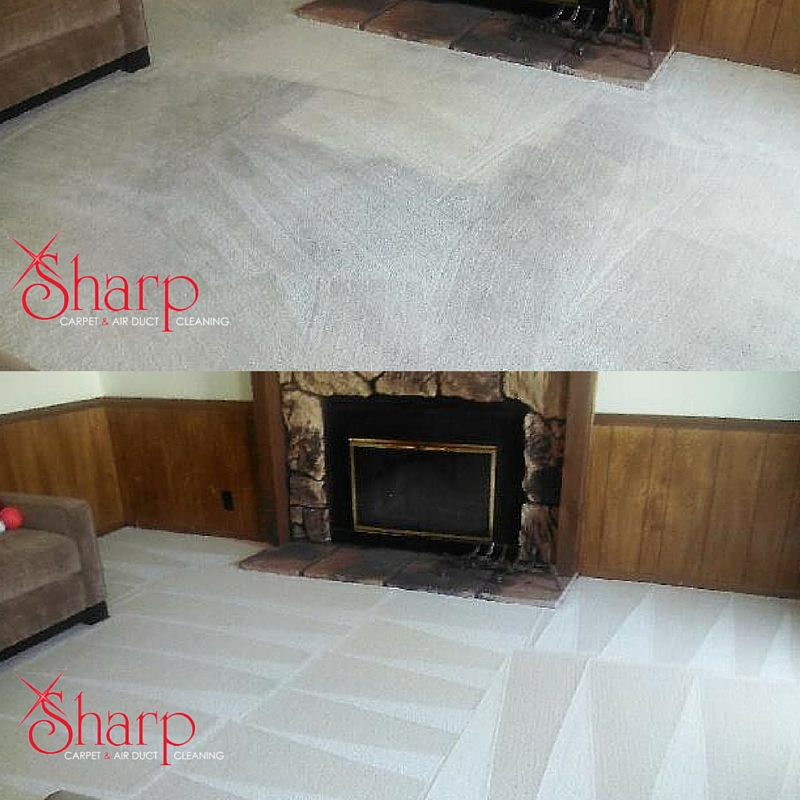 Benefits of Using Carpet Protection
Why should you opt for our carpet protectant after a carpet cleaning? Here are a few benefits:
Carpets are protected and stay cleaner longer.
Carpet protectant provides durable stain and soil protection.
Water and oil-based stains are repelled.
With materials used specifically designed to repel spills—that is, stopping soiling from penetrating the fibers, allowing you to wipe up the spill before staining can occur—this product allows you to live life and enjoy clean carpets without worrying about staining or getting your carpet dirty on a daily basis.
Scotchgard™ Carpet & Furniture Protection
Using Scotchgard™ treatment to protect your carpet and upholstered furniture will help prevent stains from occurring. This is just one more option we provide to keep your carpet in great condition!
Need Mold Removal?
If you have identified mold or believe that mold is present in your residential or commercial carpet, contact Sharp Carpet & Air Duct Cleaning immediately to schedule an appointment.
Need Water Damage Restortation?
After experiencing a flooding, it's crucial to have water removed and carpets cleaned to avoid long-term damage and mold growth. Sharp Carpet & Air Duct Cleaning provides a comprehensive approach to water damage restoration.
Schedule an Appointment
Send us a message to set up your carpet cleaning appointment today!
Contact Us